Email support@vertoku.com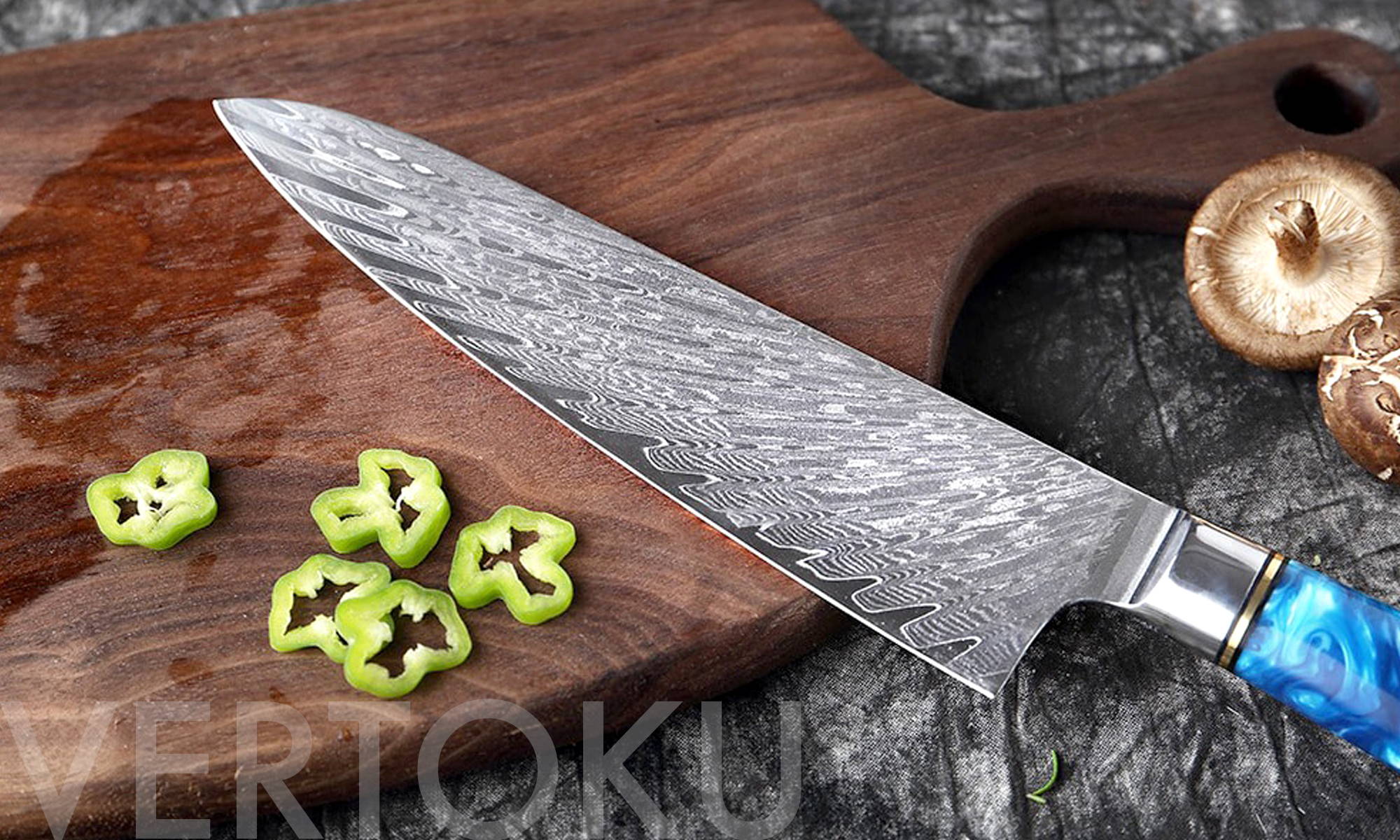 How to choose a chef's knife
The Chef's Knife is arguably the most important knife in your kitchen, bosting a versatility like no other blade, this single knife can help you...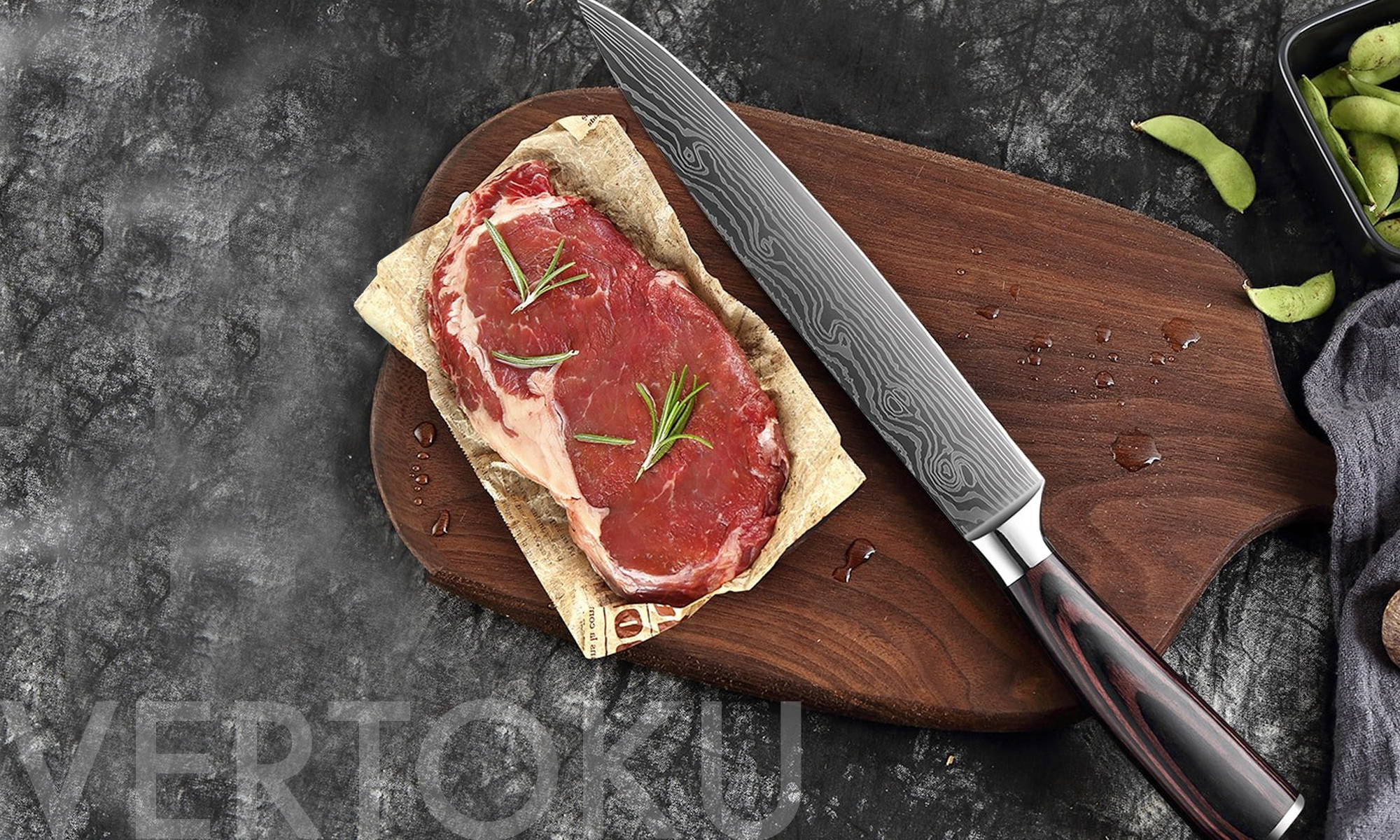 What kitchen knives do I need?
Are you an aspiring cook? Eager to learn meal prep at home? Taking on cooking as a hobby, or preparing meals for a growing family? No matter your...
Japanese Inspired. Chef Approved.
Forged from the creative minds of chef's just like you, Vertoku was born out of a love for the kitchen and a true passion for creating dishes that are as breathtaking as they are delectable.
Accessible and Affordable Knifes for Every Chef
From aspiring professional chefs to weekend kitchen warriors, no kitchen is complete without a proper set of knives and knife sets. Yet, high quality kitchen knives are often prohibitively expensive, leaving many chefs broke or ill-equipped. A single Japanese chef's knife, for example, can run upwards of $600 from some brands. And a full set? Forget about it. Those can run upwards of $3000. At Vertoku we knew we wanted to make a difference. We saw a need for making Japanese inspired knives affordable and accessible, without sacrificing quality, precision and purpose. Starting with sourcing the highest-grade materials from vendors willing to offer a fair price, to optimized manufacturing practices that ensure we lower costs without cutting corners, we bring it all together to offer reasonably priced knives that perform as good as they look. Local store shelves have limited selections of factory-pressed kitchen knife sets that are unsightly, boring, and poorly engineered from inferior raw materials. With Vertoku there has never been a better time to upgrade, right from the comfort of your own home. Our site was designed to help you visualize our inventory of Japanese inspired knives, putting you in the driver's seat and ensuring you get just what you need to create dishes that will impress.
Creative, Breath-Taking Designs that Will Get People Talking
You're not boring. So why should your kitchen knife be? From chef's knives to Santoku and slicing knives, our products are created with a flair for beauty and made to stand out for all of the right reasons. From tip to hilt and everything in-between, each of our knives is inspired by traditional Japanese design, with a modern flair that elevates your experience when cooking. One of a kind wood core resin-filled handles utilize a proprietary coloring process, resulting in truly unique handles that are as vibrant and attractive as they are ergonomic. Each blade is similarly breathtaking, offering immaculate blade patterns that inspire awe from those passing by.
Innovative and Ergonomic Concepts Brought to Life
Inspired by traditional Japanese designs, we meld classic precision and design, with a modern take on ergonomics and precision. Each knife is engineered to perfection, having gone through extensive testing before making it to our digital store shelves. Conceptualized with utility, safety and precision in mind, each knife, from handle to tip is painstakingly crafted to elevate the cooking experience and exceed expectations.
Unparalleled Quality and Function
At Vertoku, looking the part isn't enough. We know our blades need to perform as undeniably as they are aesthetic. Following in the path of those who have perfected the kitchen knife (the Japanese), we took what world-class chef's around the world loved and made it even better.
Our Steel
Our Damascus knives are crafted from authentic Japanese VG10 steel, and layered with 33 layers of genuine Damascus steel on both sides of the blade. Forged and folded with care, this layering process results in a superiorly made blade, offering incredible durability, razor-sharp edge retention and a one-of-a-kind pattern.
A Selection of the Finest Japanese Inspired Kitchen Knives
Find a knife that feels like a natural extension of your own hand, gliding with pinpoint accuracy and precision through anything you throw at it. Browse our selection and find the perfect chef knife, bread knife, Santoku knife, utility knife, paring knife, boning knife, chopper knife and more.