Full Tang Forged Knife With Finger Hole
"THE BEST CLEAVER KNIFE ON THE MARKET"
Ruthlessly Sharp: This Full Tang Forged Knife With Finger Hole by Vertoku is crafted from premium high carbon stainless steel and features an ultra sharp edge to cut through meat and vegetables with ease. It is ideal for chopping, mincing, slicing and dicing.

Hand Forged Steel: The stainless steel blade goes through a blackening treatment that produces a layer of oxide film on the metal for corrosion protection.


Cutting Edge Design: 
The knife features a finger hole to improve the grip of the knife for better safety. It is also designed with a hanging hole at the end of the handle for easy storage.
Full Tang Wooden Handle:

 
Made of beautiful rosewood, the knife handle is not only ergonomic and comfortable, but the full tang design also means it is strong and sturdy. 
Product Specifications


STEEL: 5CR15MoV High Carbon Stainless Steel
HRC RATING: 56-58
BLADE EDGE ANGLE: 15°
BLADE THICKNESS: 4mm (0.16")
HANDLE MATERIAL: Rosewood

Frequently Asked Questions:
Does the knife come with a sheath?
Yes, the knife comes with an individual PU leather sheath.

Do you ship worldwide? 
We currently ship to USA only.

How much does shipping cost?
Shipping is currently free for US orders.
How long does shipping take?
Our order processing time is 2-5 business days. After dispatch it normally takes 8-20 business days for orders to be delivered. 

Does this knife require special care?
This knife is extremely easy to care for. Avoid the dishwasher, wash and dry after use, and you'll never have an issue.


Buy with confidence:
When you buy through our online website your details are 100% encrypted and secure:
100% encrypted SSL  secure checkout
24/7 support via our customer service email support@vertoku.com
Tracking numbers sent with every order
 **Update: As of now all of these knives are currently in stock. However due to increased social media attention this product is selling extremely fast and we are estimating to be out of stock very shortly. Click the black ADD TO CART button at the top of the page before we sell out.
Customer Reviews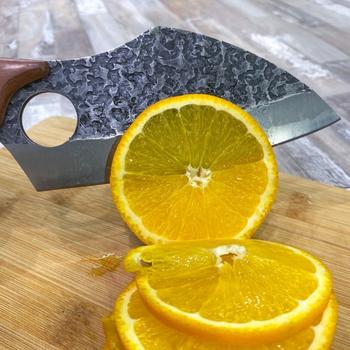 05/17/2021
verry sharp
perfect to slice fruits and veggies, chop meat, do anything really!
aaron t.

Australia
05/17/2021
Bought this knife in addition
Bought this knife in addition to my vertoku stainless steel set and I'm glad I did. Highly recommend/
Philip N.

Australia
05/18/2021
Love it
Love this knife! the full tang, the blade shape, the sharpness, the handle, the rivets, the finger hole...
Cameron W.

Australia
05/18/2021
one of the best
one of the best knives I own and I own many!!
Kevin S.

Australia
05/18/2021
meh
was expecting to be blown away but nah
Joey C.

Australia
05/17/2021
good kitchen knife
good kitchen knife
Alexandre M.

Australia
05/17/2021
Great knife
I love this knife. Very comfortable to hold and use and easy to care for. Love that it comes with a sheath too.
Jay L.

Australia