Damascus Steel 8'' Chef Knife with Blue Resin Handle
Our business is still shipping orders during this time. 
Impress your guests with this amazing, eye-catching knife!

These 8'' Chef Knives are crafted from Japanese VG10 steel and layered with 33 layers of Damascus Steel on both sides of the blade. These layers are folded and forged, creating a beautiful pattern and ensuring long-lasting sharpness. 


The G in VG10 stands for "Gold", which refers to the gold standard of stainless steel. VG10 steel is produced in Japan and is highly appreciated by Chefs because it offers
 the hardness of carbon steel but the corrosion resistance of stainless steel. 
Unique handle design
 - 
Each handle goes under a special manufacturing process called stabilization and during which the wood is combined with blue epoxy resin. The stabilization process solidifies the handle and provides better durability than traditional wood. Because high quality stabilized wood absorbs very little water, it is less prone to warping and cracking. 
Multi-Functional Knife
 - This is a versatile professional kitchen Damascus knife that can be used to chop, slice and dice vegetables, fruits and meat. 


Super sharp edge 
- The Damascus steel is finished with a finely polished surface that is tough and corrosion resistant. The curved edges are sharp, more durable and sharper. 


Exquisite pattern
 - The feather pattern of 67 layers of Damascus steel is uniquely superb. Also suitable for collection and display.
IMPORTANT NOTE

Please note that due to the special manufacturing process of the shank and the difference in natural wood growth, the texture of the wood will not be exactly the same, meaning that each handle will be truly unique.
PRODUCT DETAILS
Handle Material:
 Blue Epoxy Resin and Stabilized Wood
Blade Material:
High Carbon VG10 Steel with 66 Damascus Steel Layers
Blade Thickness: 2.1 mm
Cutting Edge Angle: 
 3
0°

Blade length: 20.5 cm (8 inches)
Full length: 33 cm (13 inches)
FAQ
Do you ship worldwide? 
We currently ship to USA only.

How much does shipping cost?
Shipping is currently free for US orders.
How long does shipping take?
As our knives are handmade, delivery time worldwide is currently 2 weeks.
Do the measurements above refer to the full knife or just the blade? 
The dimensions of the knife refer to the blade only.
Do these knives require special care?
These knives are extremely easy to care for. Avoid the dishwasher, wash and dry after use, and you'll never have an issue.


Buy with confidence:
When you buy through our online website your details are 100% encrypted and secure:
100% encrypted SSL  secure checkout
24/7 support via our customer service email support@vertoku.com
Tracking numbers sent with every order
Customer Reviews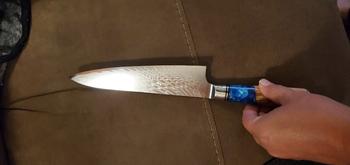 03/24/2020
I LOVE mine! I owned my own restaurant and have cooked for 25 years professionally ANYWAY It is the best quality Ive ever used and it cuts better than a 600$ professional chef knife I have! Jump on it before gone or before company realizes they selling their product for waaaaay less than what its worth!! A must have for serious cooks both private and professional
06/14/2021
I love these knives
I love these knives. Do you have steak knives. Wish I had seen the the beautiful colors but the wood look is just as beautiful. The blades are equally beautiful.
Mary M.

United States
03/05/2021
Additional sets
I just my new set of knives to include the steak knife. However I would like to see a two pcs of a boning knife and a bread knife. It would complete my set. Is this possible?
Linda L.

United States
01/05/2021
Good knives
Very good knives!
Yukzar

Israel
11/03/2020
Delighted
Ordered two. One for my daughter and her husband and one for myself. As is my custom, I ******* up my on line order by clicking the wrong button at the wrong time and submitted my order w/o taking advantage of a subsequent discount offered during the check out process. Contacted customer service which promised someone would contact me within 24 hours. To my surprise, I was contacted within 10 minutes by a very helpful person that cheerfully got me squared away immediately. Unfortunately, this type of customer service is a rarity these days so I wanted to give a shout out to this company. Secondly, the knives arrived, well packaged, in just a few days and they were actually much more attractive than what is pictured. Like the other reviews, these knives are very sharp, feel good in my hand and have me now truly enjoying food prep. Perhaps over time, I'll stop slicing, chopping and mincing things into miniscule pieces but for now nothing is safe from me and my new chef knife. Bill M.
Bill M.

United States
10/11/2020
Happy customer
Received the 5 pc knife today . So happy with its quality- very sharp and light weight. Good price for its quality.
Catalina

United States